The WMU of Texas held its Pursue 2021 Annual Meeting and Missions Celebration on April 16-17 at First Baptist Richardson. The two-day conference saw approximately 160 people participate through a combination of in-person and online viewership at three general sessions, with in-person attendance limited for social distancing purposes.
"This weekend has not been about WMU of Texas," said Tamiko Jones, executive director-treasurer for WMU of Texas. "It has been about our God, your relationships with Him and His call."
Participants were provided an opportunity to connect with one another, as well as being inspired and equipped as leaders to pursue God's calling and encouraged to impact their communities as they make disciples.
Encouragement and worship during general sessions
During the first session, participants re-elected Earl Ann Bumpus as president and elected Elida Salazar of First Baptist Church Carrizo Springs as vice president and Susan Morgan of Tallowood Baptist Church in Houston as recording secretary.
"We pray these leaders will walk into the future with confidence, knowing that [God has] already planned what they are to be about," said former Executive Director-Treasurer Carolyn Porterfield during a prayer of dedication for the elected officers.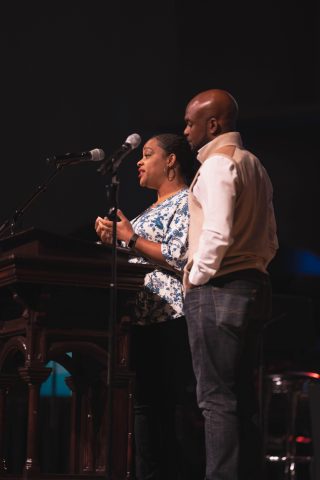 Jones honored two former employees of WMU of Texas who retired last year. Pam Poole served in the role of special projects coordinator and joined the staff in 2014. Looie Biffar served as a graphic designer and joined the staff in 2015. Both of these women served faithfully through Texas Baptists before joining WMU of Texas.
Rebecca "Becky" Ellison, former state consultant for Texas Christian Women's Job Corps and Christian Men's Job Corps (CWJC/CMJC), was also recognized as a faithful servant leader until her passing in May 2020. The CWJC/CMJC Endowment, which began in 2002, was renamed the Becky Ellison CWJC/CMJC Endowment in honor of her life and ministry. Her husband, Michael, was in attendance and received gifts in her memory.
Dr. Raquel Contreras Eddinger, director general of the Baptist Spanish Publishing House, spoke in the first session from the Gospel of John, emphasizing that the time to pursue God's call is now.
"We have to leave our jar of water behind and run to tell everyone they need Jesus," Eddinger said, referencing the story of the woman at the well. "We, the women of WMU of Texas, are called to make a difference in our society."
During the second session, participants heard from Ryan and Seané Rice, North American Mission Board (NAMB) church planters in New Orleans.
"We have to trust that the Holy Spirit is guiding us as we pursue the Lord and that He wants to use us for His glory," said Rice. "The hazard of the call of God may be great on our lives, but God is indeed greater."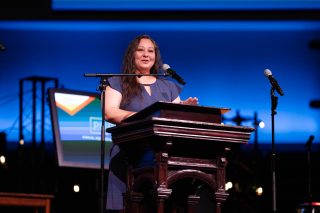 David and Laurel Fort, International Mission Board (IMB) missionaries, also shared the testimony of their ministry in places across the globe. They emphasized the blessing of obedience to God's call despite fear and challenges.

"Faith which leads to obedience calls us to trust that God is fully aware of the consequences of our obedience," said Fort.
Also during the second session, participants heard from the 2021 National Acteens Panelists from Texas: Rana Seddik from Freeman Heights Baptist Church in Garland and Hope Howard from Retama Park Baptist Church in Kingsville. These two young women were chosen by the national WMU for their hard work, dedication to missions education and faithful service.
"Missions are more effective when you do them as a team," said Howard when asked about the importance of Acteens and Youth on Mission groups. "People see that, and it's just such a witness-bearing testimony."
Mary Hill Davis Offering® giving emphasis
During the third session, Texas Baptists Executive Director David Hardage shared about the tremendous impact of the Mary Hill Davis Offering for Texas Missions® on the missions and ministry of Texas Baptists.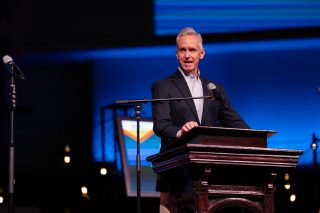 Hardage shared specifically about the use of Mary Hill Davis Offering® funds to support Texas Baptists River Ministry and Mexico Missions, Baptist Student Ministry, Go Now Missions, International Mission Board missionaries and church planting.
"So much of the missions and ministry of the Baptist General Convention of Texas couldn't happen were it not for WMU of Texas and the Mary Hill Davis Offering®," he said. "I believe in this offering. I give to it. I want to personally invite pastors to promote it harder and stronger than they ever have before in 2021."
Attendees also had the opportunity to participate in a self-guided Mary Hill Davis Offering® Prayer Experience and received a 12-month WMU of Texas planner.
"You are going to have missions opportunities right there in front of you on your calendars," said Teri Ussery, missional lifestyle strategist for WMU of Texas. "We really hope that this is going to encourage, inspire and equip you to be on mission 365 days a year, seven days a week for the next 12 months."
On mission during the conference
The Pursue 2021 mission project provided supplies for students at Mendenhall Elementary in East Plano.
Mendenhall serves almost 600 students every day, 86% of them are economically disadvantaged. Of the elementary schools in Plano, Mendenhall serves one of the highest percentages of families dealing with homelessness, single-parent homes, immigration, domestic violence, mental health issues and joblessness.
Over the course of the conference, participants donated basic supplies like clothes, masks and hygiene items as well as monetary gifts to help bless and care for the students and families of Mendenhall.
The Pursue 2021 Annual Meeting and Missions Celebration is available to watch online through June 2022 for a $15 fee that will be donated to the Mary Hill Davis Offering®. To register for live stream access, click here.
To give to the Mary Hill Davis Offering, go to iamtexasmissions.org.