The 86th Legislative Session in Review
The 86th Legislative Session has ended and most lawmakers have returned home. Here is a recap of some of their legislative accomplishments and failures of key legislation related to the 2018-2019 CLC legislative priorities.
Keep Reading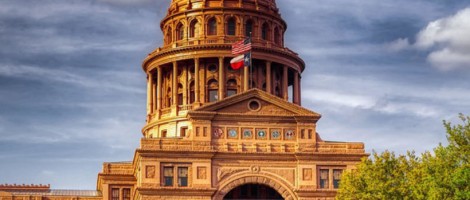 QUEDAN POCOS DÍAS BAJO EL DOMO DE CANTERA ROSA: REPORTE DE ALGUNAS DE LAS PRIORIDADES LEGISLATIVAS
El final de la sesión legislativa está a la vista y, aunque aún hay tiempo, los días se van haciendo más largos y la posibilidad de que los proyectos de ley reciban el visto bueno de los comités son más pequeñas. El siguiente es un resumen de algunos de las prioridades en los proyectos de ley de la Comisión de Vida Cristiana (CLC), en qué lugar del proceso se encuentran y cómo usted puede ayudar a que lleguen a la meta final.
JUSTICIA CRIMINAL
De acuerdo con la Coalición de Justicia Criminal de Texas, el número de mujeres en las prisiones de Texas ha crecido cerca del 1,000 por ciento desde 1980 (más de dos veces del porcentaje de los hombres). La vasta mayoría son madres. Texas es el Estado con el mayor número de mujeres encarceladas y, sin embargo, debido a que las mujeres constituyen tan solo una pequeña porción del total de la población encarcelada, sus necesidades son en su mayoría ignoradas o no se satisfacen. Como parte de la Coalición Texas Smart on Crime, el CLC ha trabajado en esta sesión abordando el asunto de la dignidad de las mujeres encarceladas en Texas.
Keep Reading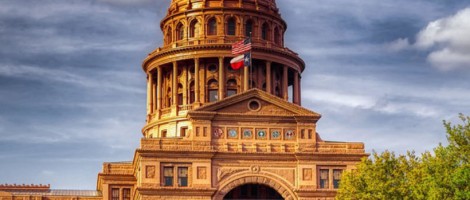 Under the Pink Dome the Days Are Few: An Update on Some CLC Legislative Priorities
The end of the legislative session is in sight and while there is still time, the days are getting longer and the chances of getting bills out of committee are getting smaller. This is an update on some of the CLC priority bills, where they are in the process and how you can help get them over the finish line.

CRIMINAL JUSTICE ...
PRO-LIFE LEGISLATION ...
PAYDAY LENDING ...
You can help.
Above all else, please pray for the CLC and our lobby team that we would be wise, gentle, reasonable, and unwavering in our work to pursue the common good while representing a biblical worldview in accordance to James 3:16-17.
Keep Reading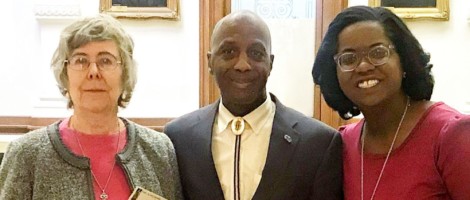 DONNA BURNEY NOS MUESTRA QUE TODOS PODEMOS SER ACTIVISTAS
Donna Burney no es una activista típica. Tras servir como profesora de inglés y después en la Unión Femenil Misionera, se jubiló; sin embargo, hace unos años, Donna se dio cuenta de la incertidumbre que enfrentan algunas mujeres al salir de prisión.
El Señor le dio a Donna una carga por estas mujeres y hace unos años fundó el ministerio "Light in the Gap" ("Luz en la brecha", en español). Los voluntarios en verdad encuentran a estas mujeres en la brecha del tiempo entre la vieja vida de su estancia en prisión y su nueva vida en sus comunidades.
Desde su fundación hace solo algunos años, los voluntarios de Light in the Gap han esperado a unas 4,000 mujeres recién salidas de prisión en paradas de autobús en sus ciudades. Les llevan galletas, bolsas llenas de artículos de higiene y un devocional. En el invierno les llevan abrigos, pero lo que es más importante, llevan el amor de Cristo y esperanza a mujeres que se sienten olvidadas y con profundos sentimientos de vergüenza por su pasado.
Donna vio a través de su ministerio una injusticia, algo que los abrazos y oraciones, aunque poderosos, no podían resarcir.
Keep Reading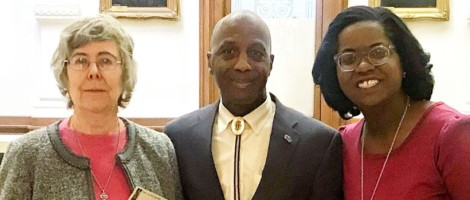 Donna Burney shows that everyone can advocate
Donna Burney is not your typical advocate, after serving as an English professor and then with Woman's Missionary Union, she retired. But, a few years ago, Donna became aware of the uncertainty facing women just released from prison.

The Lord gave Donna a heart for these women and a few years ago, she began "Light in the Gap" ministry. Volunteers literally meet women in the gap of time between their old lives as prisoners and their new lives in their communities.
Since its founding only a few years ago, Light in the Gap volunteers have met some 4,000 recently release women at the bus stops in their towns. They bring cookies and bags filled with toiletries and a devotional. During the winter they bring coats. But mostly, they bring Christ's love and hope to women who feel forgotten and a deep sense of shame about their pasts.
Donna saw through her ministry an injustice, one that the hugs and prayers, while powerful, could not correct.

She reached out to the Christian Life Commission and asked for our help. The women Donna was ministering to needed an advocate to stand in the gap for them. The women needed their elected officials to step in and get the government agency responsible to change its policy. Donna met me in Austin, and we went to meet the men and women with the power to change the policy.
Before our first meeting, we prayed for God, our advocate, to stand in the gap for us, to give our words power and to give us favor with those we were to meet. And He did!
Keep Reading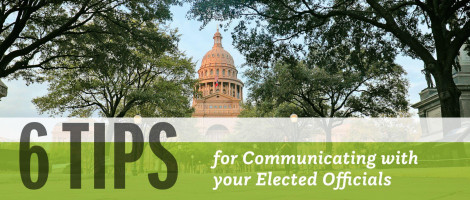 6 Tips for Communicating with Your Elected Officials
Kathryn Freeman, director of Public Policy, shares how you can communicate with your elected officials.
Keep Reading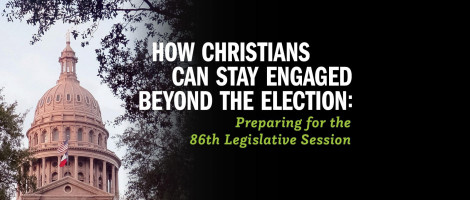 How Christians Can Stay Engaged Beyond the Election: Preparing for the 86th Legislative Session
Kathryn Freeman, director of Public Policy, shares insights on the 86th Texas Legislative Session and how you can communicate with your elected officials.
Keep Reading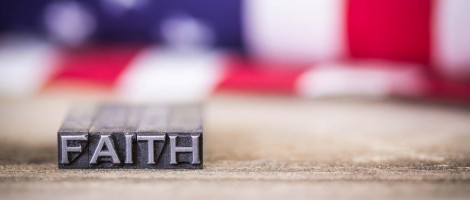 LA CIUDADANÍA CELESTIAL SE EXTIENDE A NUESTRO INVOLUCRAMIENTO POLÍTICO TERRENAL
En su discurso de apertura en nuestro Día del Activismo del 2017, el Dr. Vincent Bacote, eticista cristiano y profesor del Wheaton College, dijo: "nuestras vidas como discípulos deben importar a cada hora de la semana". El Dr. Bacote señaló que el discipulado cristiano debe incluir cada aspecto de nuestras vidas, tal como nuestro involucramiento político, pero muchos de nosotros tenemos dificultad en someter nuestra política a la autoridad completa de Jesucristo y de las Escrituras.
A menudo ponemos en compartimentos nuestras vidas como cristianos. Le damos al Señor dominio sobre nuestras vidas dos horas el domingo, pero nuestro dinero, voto, y familias nos pertenecen. Aún cuando declaramos que Jesucristo es Señor, actuamos como si las fronteras de su reino solo se extendieran hasta donde nos es cómodo, pero los ciudadanos no determinan las fronteras de una nación sino las autoridades electas. Los cristianos somos ciudadanos del reino celestial, y si declaramos que Jesucristo es Señor, Él determina las fronteras (Colosenses 1).
El misiólogo escocés Lesslie Newbigin lo dice de esta manera: "La confesión 'Jesús es Señor' implica el compromiso de hacerla valer en relación a la vida entera del mundo: su filosofía, cultura, y política en un lugar no inferior al de la vida personal de sus habitantes".
Aunque a fin de cuentas nuestra ciudadanía está en el cielo, nuestra ciudadanía celestial debería informar a la terrenal. Esta no es un llamado a la teocracia; es un llamado a que los principios cristianos informen cómo pensamos sobre asuntos públicos y sobre el involucramiento político. Los Estados Unidos no son una nación cristiana. Nuestros padres fundadores intencionalmente incluyeron lenguaje en la Constitución que prohíbe un estándar religioso para los oficiales federales electos.
Keep Reading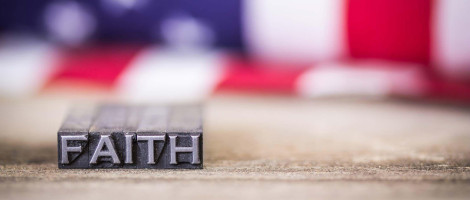 Heavenly citizenship extends to our earthly political engagement
uring his keynote at our 2017 Advocacy Day, Dr. Vincent Bacote, a Christian ethicist and professor at Wheaton College, said, "people's lives as disciples ought to matter every hour of the week." Dr. Bacote argued that our Christian discipleship should include every aspect of our lives including our political engagement, but many of us struggle to bring our politics under the full authority of Jesus Christ and Scripture.

We often compartmentalize our lives as Christians. We give the Lord dominion over our lives for two hours on Sunday, but our money, our votes, our families belong to us. Even as we declare Jesus Christ as Lord, we treat Him as if the boundaries of His kingdom extend only as far as we are comfortable. But, citizens do not declare national boundaries, the boundaries of our country are determined by those in elected authority. Christians are citizens of a heavenly kingdom, and if we declare Jesus Christ is Lord, He determines the boundaries (Colossians 1).
Scottish missiologist, Lesslie Newbigin puts its this way, "[t]he confession 'Jesus is Lord' implies a commitment to make good that confession in relation to the whole life of the world — its philosophy, its culture, and its politics no less than the personal lives of its people."
While our citizenship is ultimately in heaven, our heavenly citizenship should inform our earthly one. This is not a plea for theocracy; it is a plea for Christian principles to inform how you think about policy issues and political engagement. America is not a Christian nation, our Founding Fathers intentionally included language in the Constitution prohibiting a religious test for federal elected office.
Keep Reading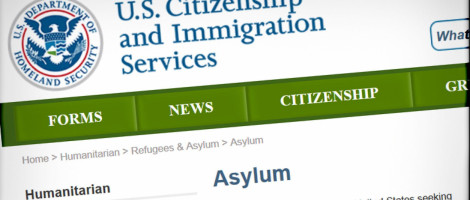 EN BUSCA DE ASILO: LA CARAVANA MIGRANTE Y LA CRISIS EN LA FRONTERA
En el libro de Éxodo, una caravana de israelitas salió de Egipto con rumbo a su nuevo hogar en Canán. Enfrentaron muchos obstáculos en su viaje. Algunos les hicieron frente con bondad, mientras que otros se rehusaron a mostrar el menor destello de gracia.
En Deuteronomio 23:4, Dios le prohíbe a amonitas y moabitas ser parte de la asamblea por haberse negado a proporcionar comida y bebida a los israelitas en el desierto. En el capítulo 10 de Deuteronomio, Dios les recuerda a los israelitas su amor por los extranjeros, y les ordena amarles como a sí mismos porque alguna vez ellos mismos fueron extranjeros en Egipto.
Es obvio que los Estados Unidos de América no son Israel, y los mismos mandamientos para los seguidores de Cristo no se aplican a una nación soberana. Aún así, al momento nos enfrentamos a nuestras propias caravanas. Podemos aplicar principios bíblicos a nuestras respuestas personales al mismo tiempo que pensamos bíblicamente y sopesamos soluciones políticas justas.
Antes de discutir sobre reformas a las políticas de inmigración, es importante entender algunos aspectos básicos al respecto del sistema de inmigración. Como seguidores de Cristo, no debemos dar falso testimonio en nuestro hablar. En las últimas semanas hemos sido bombardeados por historias en los medios masivos sobre migrantes "enfermos", "hordas invasoras", "terroristas" y "traficantes de droga". Estos reportes noticiosos han hecho del tema un asunto sensacionalista a fin de atizar el miedo de este lado de la frontera.
Este blog incluye algunos hechos básicos sobre el proceso de pedir asilo en los Estados Unidos y las maneras en que algunos de los integrantes de la caravana podrían permanecer legalmente en los Estados Unidos. En una segunda entrega, incluiré algunas ideas para implementación de políticas a fin de incrementar la seguridad fronteriza y mejorar el proceso de solicitud de asilo.
Keep Reading
Page 1 of 6