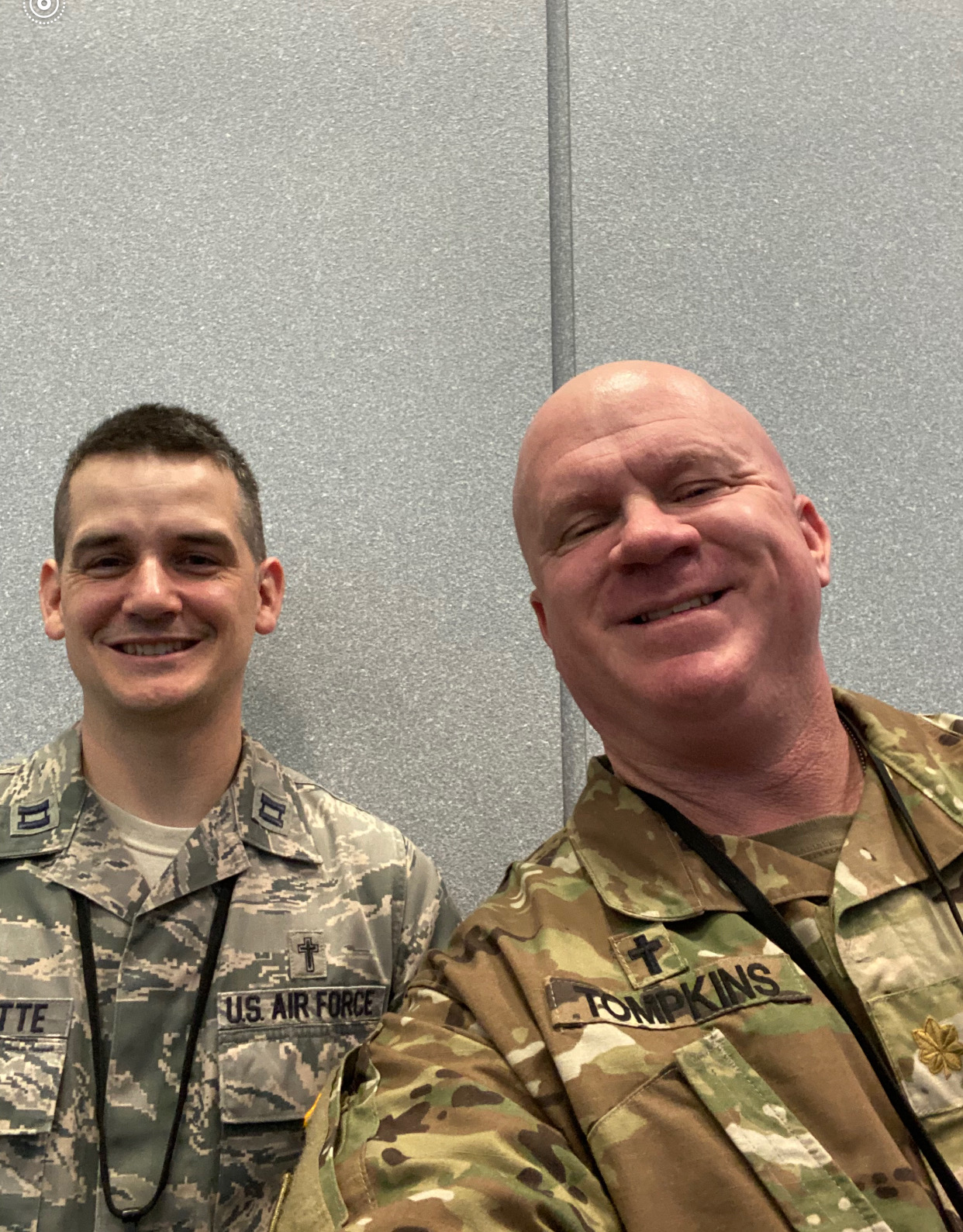 The COVID-19 outbreak has hit New York City with brutal strength. Makeshift medical facilities have been set up across the city to treat patients, and the military has come into the city to help overwhelmed police officers and state troopers maintain order, run testing facilities, and ensure that everyone stays safe. Joshua Choquette, a Texas Baptists endorsed military chaplain and Captain in the Air National Guard, volunteered to go to New York City to minister to soldiers stationed there.
Choquette and two other chaplains, serve in 15 sites in Manhattan, Bronx, Brooklyn, and Staten Island. The biggest site they serve is the Jacob K. Javits Convention Center, which has been turned into a temporary medical center with over 4,000 beds for COVID-19 patients.
As the military chaplain, Choquette takes care of the soldiers stationed in these sites, providing counseling, spiritual guidance and worship services. Choquette has seen a large number of soldiers coming with spiritual questions and noted that the worship services had large attendances. Choquette explained that, for many people in New York, this is the first time they have thought about their spiritual security in a long time. The state has a strong secular culture, but the fear and anxiety of these turbulent times has caused many soldiers to question their beliefs.
"People are relying a lot more on prayer," Choquette said. "And that's people who aren't even spiritual. It has put them a lot closer to death, or maybe they've lost a loved one, and so they have questions they've never had before."
In addition to supporting the spiritual needs of the soldiers stationed in the city, Choquette also assists the military leadership. He is helping leadership refocus their mindset from mission-based to needs-based. The military traditionally operates around concrete missions with absolute goals, Choquette explained.
"One of the ways this mission is unique is that there is no end date. There's a lot of unknowns, which is not usually how the military operates," he explained. "And that lack of knowledge, along with the stress of worrying about their families, creates a lot of fear."
This new mission, which has no end date and no clear goal for the military, beyond maintaining order, requires a focus on the soldiers' needs. As a chaplain, Choquette listens to the soldiers' problems and needs, and though he keeps confidentiality with his soldiers, Choquette can still convey general concerns and feelings to the leadership and suggest changes to boost mental and emotional health.
An eternal hope
The predicted peak of the virus's impact falls around Easter. Choquette noted that this was interesting, as there is a cry for death to be pushed back across New York City, just as Jesus pushed back death with His resurrection. Choquette prays that this parallel of death and life will not be lost on those in the city and that this Easter God will use the chaplains to bring people to Jesus.
Choquette understands the secular nature and skepticism of many New Yorkers, as he came from a similar background. He was a Wiccan for 11 years, until "God hit him with full force." Since then, he has been devoted to sharing the hope and love he found in Christ with others. Choquette has been a military chaplain for over six years and has been serving in that capacity full-time for three years. He serves in the Air National Guard, 109th Airlift Wing chaplain and was endorsed by the Texas Baptists Chaplaincy Program in 2016.
Choquette volunteered to move down from upstate New York to New York City, where he has been for three weeks. He has a wife and four daughters, whom he has been unable to see since he relocated. Because of the unknown nature of the virus, he is unsure when he will be able to see them again. Choquette asked that Texas Baptists pray for him and the other chaplains who are facing emotional hardships, such as being unable to see family for long periods of time. He also asked for prayer for the chaplains who return home from the hospitals every night and worry about potentially spreading the virus to their families.
Above all, Choquette encouraged churches to continue providing community and support despite being physically separated. The first churches often could not congregate due to persecution, and yet their numbers grew exponentially during that time, he said. Choquette implored churches to use this time wisely and to minister to those around them who do not have an eternal hope.
"The best thing we have is prayer and unity," he said. "In many ways, this is an opportunity for the church. We need that closeness and support for each other, and we need to share it with the world."